Van den Berg Steneker Stamboom


The publication Van den Berg Steneker Stamboom has been compiled by C. van den Berg (contact author). The data collection consists of 5,139 persons. A list with used sources and archives can be found at the sources page. You can find more statistical information about the publication (like numbers and dispersion of genealogical events) on the countings page. This publication was last updated on Sunday, March 24, 2013.
Deze stamboom bevat gegevens van de volgende families:

UTRECHT, AMSTERDAM:
VAN DEN BERGH / VAN DEN BERG ( vanaf begin 18de eeuw van Werkhoven , via Tienhoven (Ut) naar Nieuwer Amstel , Amstelveen , Buitenveldert , Amsterdam , Rooms Katholiek ),
DE BIE ( Werkhoven 18de eeuw ),
VAN BENNEKOM ( Werkhoven 18de eeuw ),
VAN OOSTROM / Van Oostrum ( Schonauwen , Houten ),
BROEKHUIZEN ( Harmelen ),

WEST BRABANT:
VERMEER / VAN MEIR / VAN MER ,
SCHRAUWEN ,
DAMEN ( Rijsbergen , Oud en Nieuw Gastel ), Van Hees
HARTMANS ( vanaf eind 17de eeuw Breda , Roosendaal , Steenbergen ),
RUIJTEN ( vanaf 16de eeuw Wouw ),
HAEST (Zundert Roosendaal)

ZUID-HOLLAND:
IJZELENDOORN ( Nieuwerkerk ad IJssel , Ter Aar , Haarlemmermeer ),

ZUID FRIESLAND:
STENEKER / STEENEKER / STEINKE ( Hollandgänger uit Voltlage, gevestigd te Haskerdijken ),
LYCKLAMA À NIJEHOLT ( papisten , katholieke tak ),
LEISTRA (RK)
RENEMA / RHEEN (papisten uit Goutum en Rien
SIKKEMA of Siccama ( boeren, hervormd, te Donkerbroek , Klein Klazinge , Sickinga , Fochteloo , Hoornsterzwaag ),
VEENSMA en VEENEMA (omg Oosterwolde )
BERGSMA ( Schoterland ),
JELLEMA ,
BLOKZIJL ( Stellingwerf ),
NIJENHUIS ( Brongerga , Oranjewoud ) ,
NIJDAM ( Irnsum , Sybrandaburen )
TERWISGA
en vele andere families.

KROMME-RIJNSTREEK
Plaatsnamen: Werkhoven, Dwarsdijk, Houten, 't Goy, Odijk, Bunnik,
Speciale aandacht voor het Kromme-Rijngebied (zuidoostelijk van de stad Utrecht) in de 18de eeuw, met de onderling verwante families van landpachters en boeren (Rooms Katholiek): VAN DEN BERGH , VAN DEN BERG ( pachters van Koningsbergen te Werkhoven , Moraalse Hoeve of Molenaarshoeff te Werkhoven en 't Goy , De Prinsenhof te Odijk en De Winkel of De Oude Winkel te Dwarsdijk / Nyendijk , Cothen ),
VAN BENNEKOM , ( pachters op Beverweert of Beverweerd te Werkhoven ),
DE BIE en Cronenburgh , Kronenborgh ( pachters van o.a. Weerdenburg te Werkhoven ),
VAN OOSTRUM , VAN OOSTROM (een oude familie uit de omgeving van Houten , Schonauwen ).
Gerelateerde familienamen zijn Beyer (schoonfamilie) , Van der Borgh of Van der Burgh ( Cothen ), Van de Leemkolk , Pauw , Peeck , Peek , Spaan , Schriekenberg , Van Rijn , Van Schaik , Van Scherpenzeel , Vermeulen , Vernooij , Vernooy , Vernoy , Uijtewaal ,etc.

Er zijn aanwijzingen dat het RK gezin Van den Bergh X(1732) Van der Borgh afkomstig is van de Achterhoek ( de Liemers, Montferland, gem. DEN BERGH ( 's HEERENBERG ). Dit zal gelden voor andere families met de naam VAN DEN BERGH in het Krommerijngebied. Verschillende van die families zijn hier in kaart gebracht.
Met name de familie VAN DEN BERGH - VAN SLAGHMAAT , bewoners van de hofstede 't Hemeltje ( Oud-Wulven en Waaijen , Utr.) is vermoedelijk verwant en verder uitgewerkt.

HOLLANDGÄNGER IN FRIESE VEENKOLONIËN
Speciale aandacht voor de Hollandgänger, seizoensarbeiders (veelal Rooms Katholiek, afkomstig van Westfalen ), die zich eind 18de eeuw vestigden in de veenkolonies bij Heerenveen ( vierde en vijfde veendistrict ): familienamen Brinkman , Brinckmann , EFFING , EUVERMAN ( Euwerman, herkomst Zwolle ), HAVERTEEPEN ( Haverteep ), HERGARDEN, Huver , Kleinbeerend , KNOOP , Kruger , KRUIS ( Krüshegge ), LEENES ( Lienesch , Lienes , Lenos , Linos , Lynes ), Mulder , Schroor , Schwierling , Slauerhoff , STENEKER ( Steenke , Steeneker , Steinke ), Waslander , Zanders ( Sanders )

De protestantse STENEKER tak uit DIEMEN en Amsterdam (eveneens Hollandgänger uit Voltlage (fam. Steinke ), immigranten uit Westfalen kort na 1800) is hier uitgewerkt. Dit was een bekende protestantse familie te Amsterdam, eerste helft 20ste eeuw. De Diemense Stenekers zijn aangetrouwd aan de familie Grosheide. In de Amsterdamse begraafregisters wordt de naam Steneker al aangetroffen rond 1770.

De katholieke Stenekers kwamen pas eind 19de eeuw van Friesland naar Amsterdam. Deze Friese tak vormt de verbinding VAN DEN BERG-STENEKER.

DE ROOMSE FAMILIE VAN LYCKLAMA À NIJHOLT
Een focus op de katholieke tak van het Friese patriciërsgeslacht LYCKLAMA À NIJEHOLT uit Nijeholtpade , Oldebercoop , Oudeschoot , Langweer en Roordahuizum ( Wytgaard ). Deze Lycklama's stonden bekend als PAPISTEN.
De protestantse tak van de familie Van Lycklama leverde veel bekende bestuurders in Zuid-Oost Friesland (grietmannen). Papisten waren vrijwel uitgesloten van bestuursfuncties.
Aan deze papisten verwant zijn Friese RK families als RENEMA , RHEEN , LEISTRA , METZ , ZEILSTRA , DE BOER , BOERSMA , TOLSMA , (Zuid-West Friesland, Wirdum , Jelsum )
De Lycklama's zijn verwant aan de Stenekers.

Met dank aan o.a. Herman Post, Paul van Gool, Klaas Sikkema, Simon Johs Schaafsma, Wietze Corn. Ypma, Raymund Winter, Yolanda Snip-Steneker, Monique Steneker, George de Haan, Veronica 't Hart-de Kleijne, Margo Bergsma, Sjors Boersma, Museum Workums Erfskip, Han Nijdam, Jan Jellema, Janette Vooijs, Ine van Mer, Arie V.van den Berg, Dinie van Tol-Burgers, Greet Kolhorn-Blijleven, M.S.F. Kemp, Jeanette Berkhof-Bunnik, P.C.van Bennekom , Leo van Rijt , Job Daan , C.A.M. Lieshout, J.Turin , en M.Philippe .
Voor het eerst geplaatst op 21 augustus 2008. De gegevens worden met regelmaat bijgewerkt en aangevuld.

Het staat iedereen vrij de gegevens op deze site over te nemen, echter met het vriendelijk verzoek dit alleen te doen onder vermelding van het originele bronnenmateriaal of met een verwijzing naar deze website.
Index of surnames
Starting points in this publication
Today in the past
Connections
This publication also contains 757 images!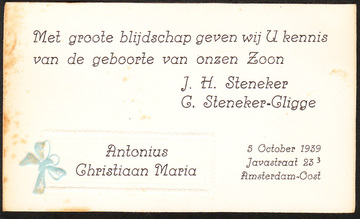 Please view the image gallery