Stamboom Van Ninhuijs

The publication Stamboom Van Ninhuijs has been compiled by Peter Van Ninhuijs (contact author). The data collection consists of 16,894 persons. A list with used sources and archives can be found at the sources page. You can find more statistical information about the publication (like numbers and dispersion of genealogical events) on the countings page. This publication was last updated on Monday, May 20, 2013.
Dit is de stamboom van peter van ninhuys uit het plaatsje helden-beringe.( limburg) In een pachtcontract uit 1621 wordt onze naam al in verband gebracht met het huidige beringe in helden (tegenwoordig peel en maas genoemd). THOMAS Van ninhuys pacht grond in het vosbergerveld...Het vosbergerveld lag ten oosten van de ninnesweg in helden-panningen.De boerderij waar de stamvaders woonden heette aent Biringen, tot Nyelis.We wonen al meer dan 500 jaar in de gemeente helden (limburg). Deze stamboom is mede tot stand gekomen door genlias en het land van kessel, familie, bekenden en nog vele anderen.als er onjuiste informatie, of te weinig informatie in staat dan hoor ik dit graag !!!
ik ben op zoek naar alles wat te maken heeft met helden-beringe.de volkstelling van helden-beringe 1939 en 1829 en 1849 is helemal aanwezig.
Index of surnames
Starting points in this publication
Today in the past
Connections
This publication also contains 457 images!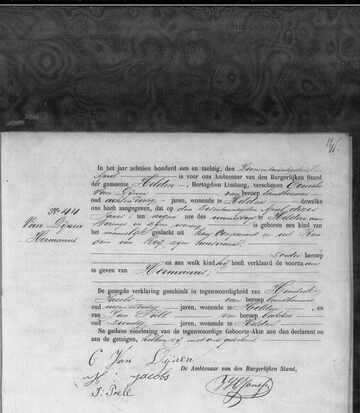 Please view the image gallery